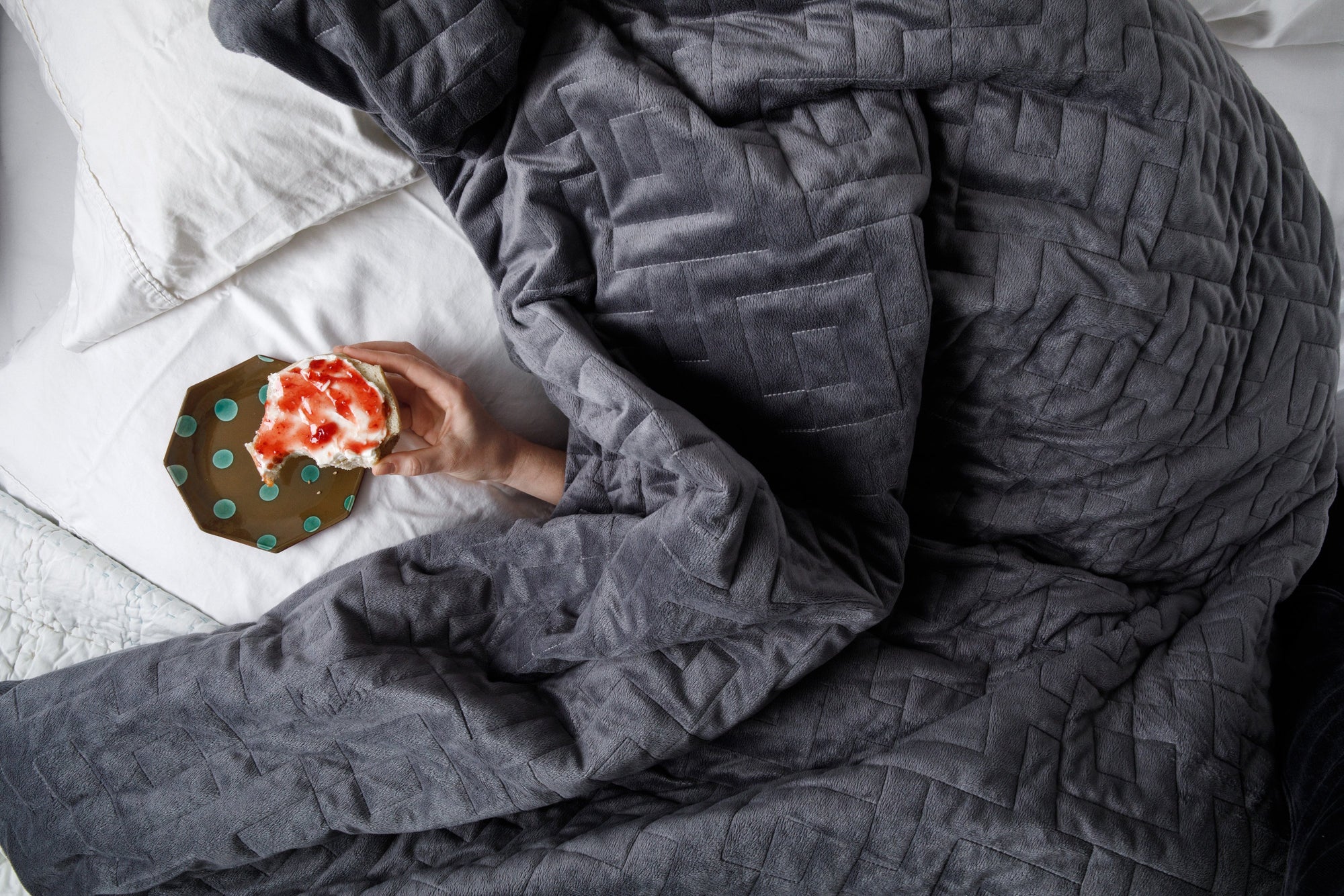 What you can do for yourself during quarantine:
This is probably one of the biggest events in our lifetimes, with most of us having been mandated to self-quarantine in our homes. It's a situation that can be both stressful and overwhelming - with the potential risk of impacting our mental and physical health.
We want to ensure our community is prepared to handle these upcoming weeks at home, so here are a few survival tips from your friends at Gravity Blankets:
1. Combat loneliness:
Social distancing literally means being alone, which for some of us can be a little daunting. This is when technology becomes our best friend. Facetime loved ones and not just to catch up. Spend actual quality time with people virtually. One thing people are doing is hosting virtual movie watch parties or game nights. Another is sharing a meal with loved ones, even trying to make the same dish so that you're having the same experience. Our last suggestion is to have a dance party! Play some music and get moving!
2. Keep a healthy diet:
Giving yourself a treat from time to time is fine but completely regressing into bad food habits will only lead you to feeling worse. Not only that, but it will also weaken your immune system if you're missing key nutrients from your diet. "Boston-area registered dietitian Elizabeth Ward, who runs Betteristhenewperfect.com, is also focused on shopping for the same foods she stocks all the time. "Eating a varied and nutritious diet that is abundant in fruits, vegetables, and whole grains can go a long way in helping you fight illness," she says." You can read more from a Quarantine Grocery List From RDs, here.
3. Try to get some sunshine:
Easier said than done at this time and something we definitely need to be careful in doing. Open up your curtains, or sit in your backyard/ balcony/roof and soak in that vitamin D. According to Forbes article, Why Sunlight is Actually Good for you, "Strong association studies have found that Vitamin D is also very important in signaling the immune system. It appears to be necessary in adequate amounts to turn on your ability to survey the rest of your cells," says Dr.Roizen"
4. Ease anxiety and stress:
Getting anxious and worked up only increases your cortisol levels which in turn "alters immune system responses and suppresses the digestive system, the reproductive system, and growth processes." Read more about the effects of stress here.
There are tools that can help you stay calm throughout this experience. And we know we come across as a little biased here, but weighted blankets ARE proven to reduce cortisol levels which in turn reduces anxiety and stress. In light of everything that is happening, we are offering 15% off storewide with code WFH15 at checkout. Another tool is meditating, and with apps like Calm, you can easily access an entire array of stories and meditations from the comfort of your home. If you purchase this Gravity Blanket, you get a year's Calm Subscription too!
5. Exercise at home:
It's easy to become sedentary and spend this time entirely on the couch or in bed. Getting some movement will help your mind and body feel better. Fitness instructors are currently out of work and needing support, so if you can afford it, reach out and book a virtual coaching session to motivate you to move! Otherwise, there is this great list of easy at-home workouts from Healthline. Yoga is also a really great option for an in-home workout that doesn't need too much space or equipment. Youtube has a great selection of different types and skill levels yoga videos.
6. Set boundaries:
It's important to stay informed but that doesn't mean you have to read every story, article or status pertaining to these recent events. It can be triggering to the best of us and so we ask that if it's something that is causing you anxiety, that you make the conscious decision to choose what you participate in. Setting boundaries with yourself and others is extremely important. You're allowed to say "No, thank you. I would rather not receive this type of information from you anymore. Please let's discuss something else." Approach those that come to you with compassion, as they are most likely just as anxious and frightened as you, but stay resilient in your needs and boundaries.
7. Perspective:
We need to not view this as something that is leaving us trapped and powerless. We are collectively coming together as a worldwide community to protect those that need it, by stepping back and letting our medical communities catch up with the current demands of this virus. What is one thing you've always said you would do once you had the time and never did? This is that time. Write that novel, make that website, reorganize your home, and/ or paint your heart out. This is an opportunity to make time for yourself.
And so we'd like to leave you with a Chinese saying that we were recently told and resonated with:
"We are waves of the same sea, leaves of the same tree, flowers of the same garden."