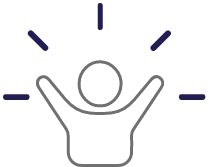 Corporate Wellness
Improve Your Employees' Wellness
ABOUT our corporate wellness program
Employee health and wellness increases happiness and creates results.
A 2017 study conducted by the University of California demonstrated that for every dollar invested in corporate wellness programs, employers saved between 2.75 - 3.25x that amount in healthcare and absenteeism costs.
Our team is here to partner with HR/company leaders to bring a fully-customizable program to your employees. We'll work with you to create the program that's the right fit for your company.
Programs are designed to:
Highlight the importance of sleep
Provide tactics to reduce daily stress, and thus improve mental health
Showcase how Gravity's lineup of products can help employees recharge
Programs can include:
Custom Discounts
Relaxation Stations
Sleep/Wellness Panels
Blog/Long-form Content
Our Corporate Wellness Partners:
Relevant Blog Content:
Beyond Physical Fitness: The Importance of Sleep & Mental Health for Professional Athletes
Top Myths about Mental Illness with Dr. Jeffrey Borenstein
May is Mental Health Month – How are you doing?
Tips for breaking up the monotony of staying inside all-day.
'Spring Clean' Your Headspace
Top 10 Sleep Tips and Facts from this past year!
Setting Mental Health Goals for the New Year
Every Day Mental Health Tips
Please fill out this form if you are interested in learning more about our Corporate Wellness Program.
Someone from our team will be in touch within 48-72 hours.
Learn More